Christoph Kaiser finishes his latest sketch, while Shauna Thibault chops vegetables. It's a delicate dance in 366 square feet, but the newlyweds aren't fazed. "There's something about living in a small space that simplifies life," Kaiser explains. "It quiets the mind, in a way." The couple isn't renting a micro-apartment, although their urban Phoenix lifestyle might make you think so. They live in a grain silo. "I think there was a healthy level of skepticism from our friends and family when they found out we were going to attempt to live in a grain silo," says Thibault. "But we love it. … It's not just an experiment." The stylist and boutique owner has always been drawn to minimalist living. And for her husband, an architect, unique dwellings pose the ultimate design challenge. "What can you live in and still have a sense of home?" Kaiser says. "It's easy to cram all the parts that you need to live in something. It's easy to build it, even - relatively speaking. … The real challenge is to end up with a piece of architecture that actually feeds your soul, as opposed to draining it."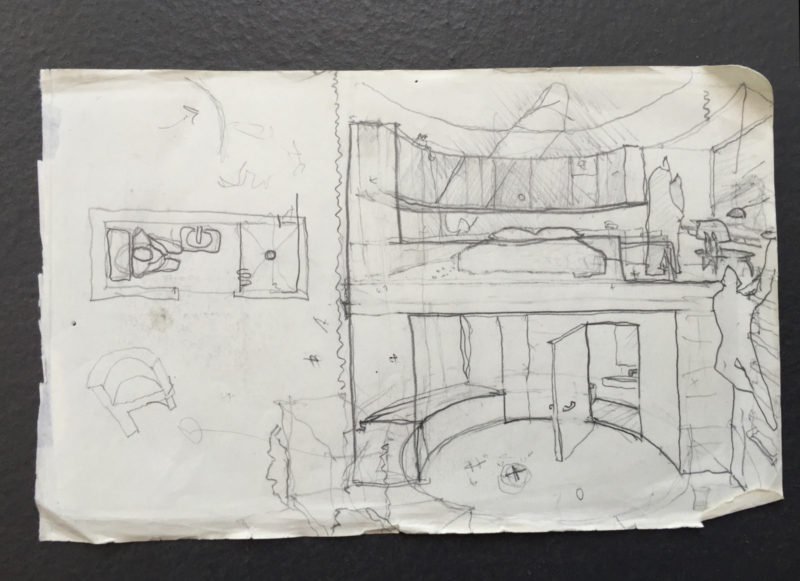 But Kaiser didn't wake up with the idea to turn the silo into a home. The rusted, metal cylinder was originally a Craigslist find to store his garden tools. Then, with his wedding date approaching, he started drawing up plans with his 
architecture and design firm
. "Once we started, it was about an 18-month process with a few breaks in between where I would run out of money and have to make money, so I could invest some more," Kaiser explains. "At a certain point, we were just like, 'Oh my goodness, we've been anticipating living in this project for such a long time.'" Unique projects bring unique challenges - and the silo has had its fair share. With most furniture and appliances designed on a 90-degree angle, Kaiser had to figure out how to fashion a home in a curved space. He ended up building everything from the kitchen cabinets to the doors himself.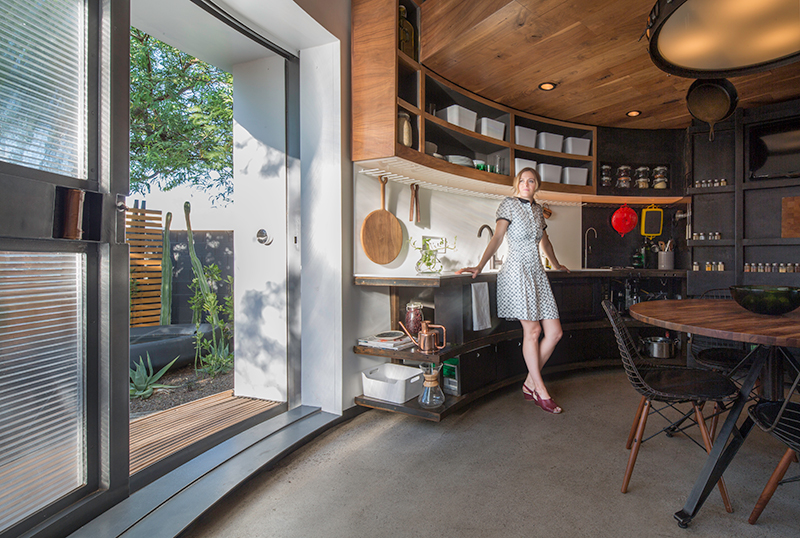 A giant glass door on wheels serves as an entrypoint into the backyard, and a way to open up the space. "To have the benefit of outdoor space, which is an extension of the living space, is huge," Kaiser says. "Whether you're sitting inside and have this 10-foot-rolling door open and you just have a view you can experience … or you're outside enjoying it directly, I think it was definitely something we considered as part of the floor plan." "You can sit and read and, 'Oh, let's pick a few weeds,' and then bring some produce inside," Thibault adds. "Everything is very fluid."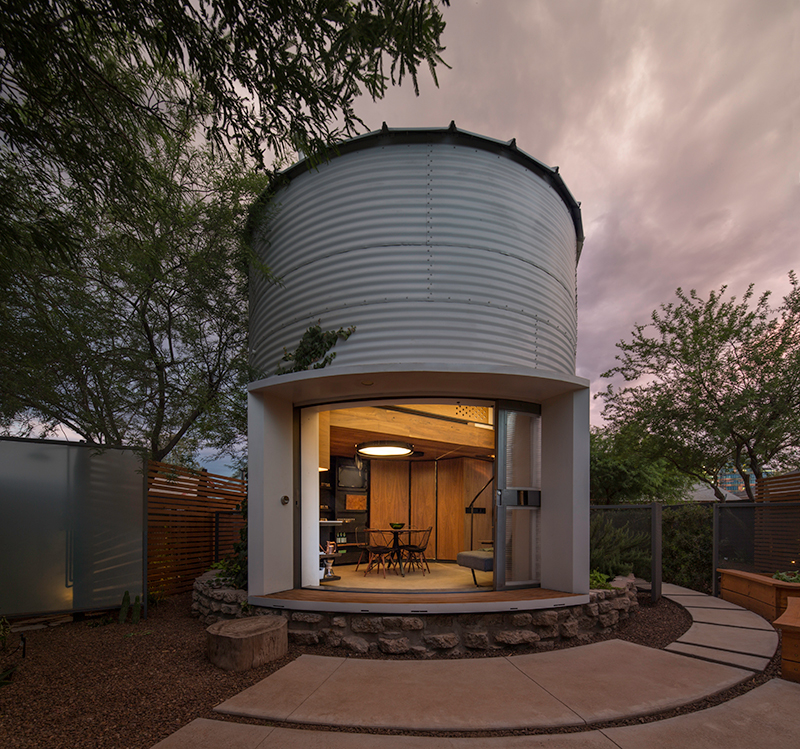 But when the couple experienced their first storm in the house, indoor-outdoor living became a little too real. "We had water coming in through the front door, water coming in through the radius door," Kaiser recalls. "That was not a fun night for me, because it's kind of my responsibility to make sure this thing actually works, and all of a sudden these things were failing." The couple also had to figure out how to make a functional space for two when they don't have rooms, per se, other than a teeny bathroom. They ended up creating a separate sleeping loft, where Thibault loves to watch movies in bed. "You feel like you're at the IMAX," she says. "You can lie in bed, and it projects arced on the wall. Subwoofers are hidden underneath the bed, so everything kind of shakes. You can watch 'Jaws' in full format. It's pretty great."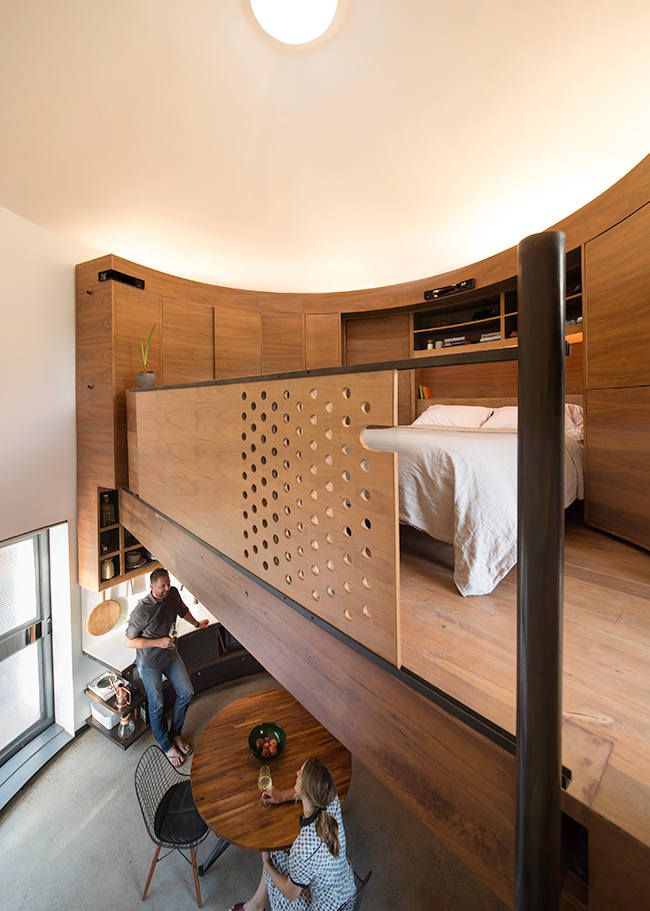 Kaiser says the space has brought the newlyweds closer. "I think there's an intimacy that's imposed on people when they're in one space. You can't find that separation," he says. "… It makes you confront issues more, and it really brings you together." "I think we've learned a lot about our dynamics, and the way that we work and accomplish things," Thibault adds. "[It's] very coupling."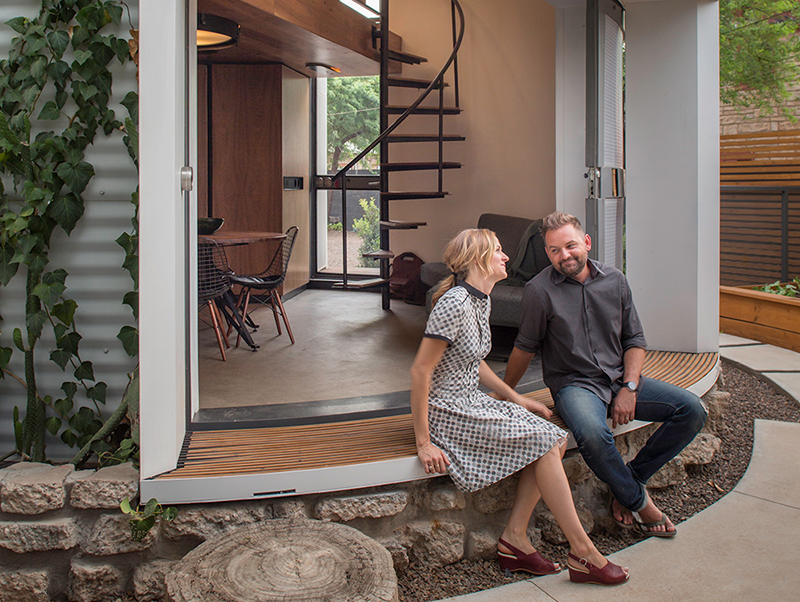 They've also had to learn how to live with (a lot) less. "We had to do a pretty serious pare-down of our stuff to move in here, and that honestly just keeps continuing," Thibault says. "I think he has more shoes [than I do]." "She has more shoes," Kaiser replies with a smile. "There's no contest." No matter how many pairs of shoes, the couple says they wouldn't trade their out-of-the-box living experience. "Home can be so many things," Kaiser says. "… The ability for people to fashion that to their own liking is a beautiful freedom that we have."
Video by Craig Schwisow and Tom Hanny. Photos by Matt Winquist; design sketch by Christoph Kaiser.
Don't miss out on the next Zillow video! Subscribe today to see the latest. 
Originally published August 3, 2016.
Related:
The post
Saying 'I Do' to a Tiny Grain Silo Home
appeared first on
Zillow Porchlight
.