If the very mention of the word yurt conjures up images of 
desert-worn tents in rural parts of central Asia
, rest assured: Modern yurts draw their inspiration from these versatile living spaces - and make them even better.
Contemporary yurts
 are popping up everywhere - from small-town Arkansas to Zion National Park - as open, airy homes, backcountry destinations or even weekend glamping getaways. 
Below are some of our favorites.
Marfa, TX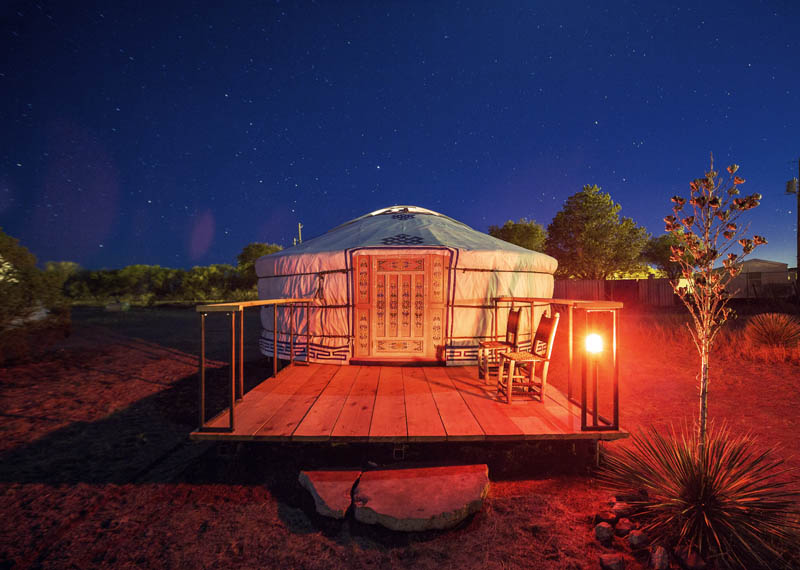 Sleep under a swath of stars in this brightly colored Marfa, TX, yurt. Located about three hours southeast of El Paso, the yurt sits on a 21-acre artists' retreat with a hammock grove, bike rental and wood-fired hot tubs. Bringing friends? The yurt is perched alongside Sioux-style tepees, safari tents and renovated vintage trailers. This home is currently available as a 
short-term rental
.
Orderville, UT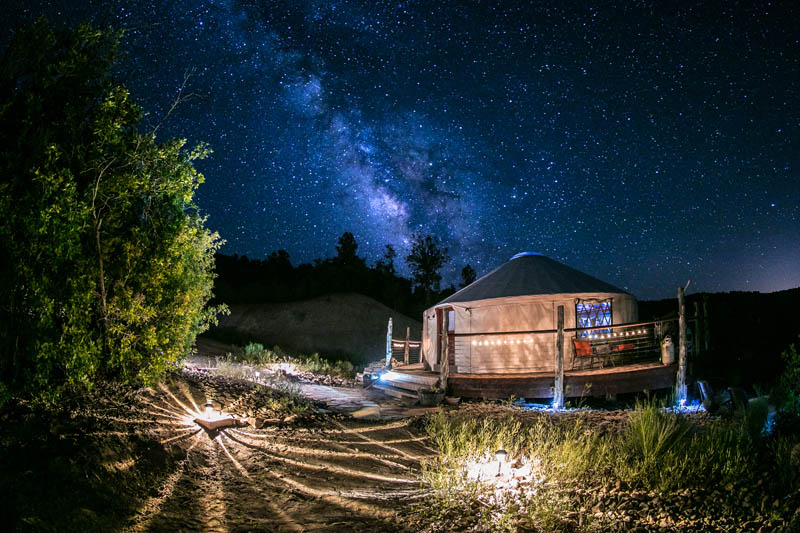 Just beyond the terra-cotta backdrop of Zion National Park, this Utah yurt is off-grid and on point. Cell service and technology are nonexistent, making for the perfect environment to enjoy this bucolic setting. An outdoor fire pit serves as a spot to warm up underneath the night sky, and the yurt's interior can sleep up to 11 people tuckered out from exploring Utah's natural bliss.
This home is currently available for
short-term stays
.
Elgin, TX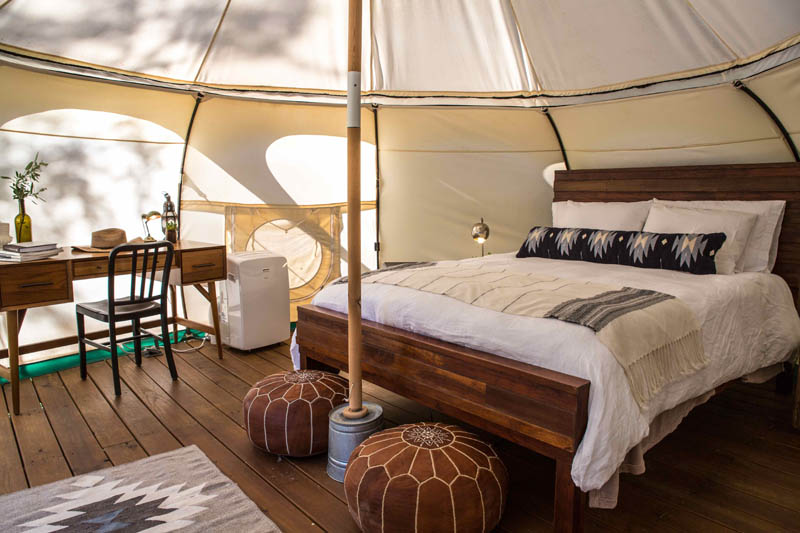 About 30 minutes outside of artsy Austin, TX, sit five yurts for the glamping fan in all of us. Each space is artfully decorated, from the Southwestern decor to the hand-picked vintage furniture. The rustic surroundings provide the perfect escape from the hubbub of big city life: There's a classic writer's desk inside each yurt, relaxing hammocks outside and walking trails nearby. These homes are currently available as
short-term rentals
.
Roland, AR
Buy the house and get the wine-tasting yurt, too? Now that's something to toast! This unique yurt in Roland, AR, serves as a spot to sip pinot gris or sample riesling as you gaze out onto a vineyard. The yurt comes with a ready-to-go wine-making permit, plus a classic log cabin and an infinity pool overlooking mountains and a lake. This home is
on the market
for $2.5 million.
Fairplay, CO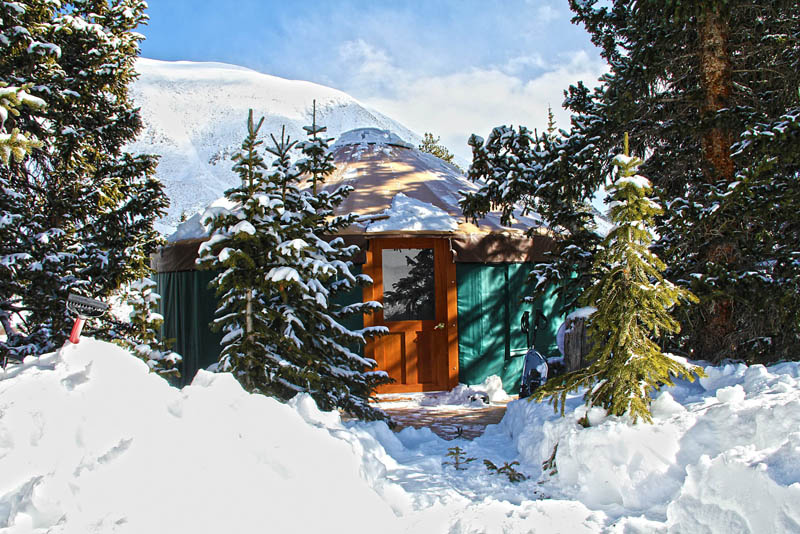 If the mountains are calling and so you must go, this might be the yurt for you. Nestled in the wilderness about 30 minutes from Denver, this home serves as a Rocky Mountain retreat for explorers of all ages. Enjoy stunning stargazing at night, fresh powder all winter long and 360-degree views from the wraparound deck. This home is currently available as a
short-term rental
.
Los Angeles, CA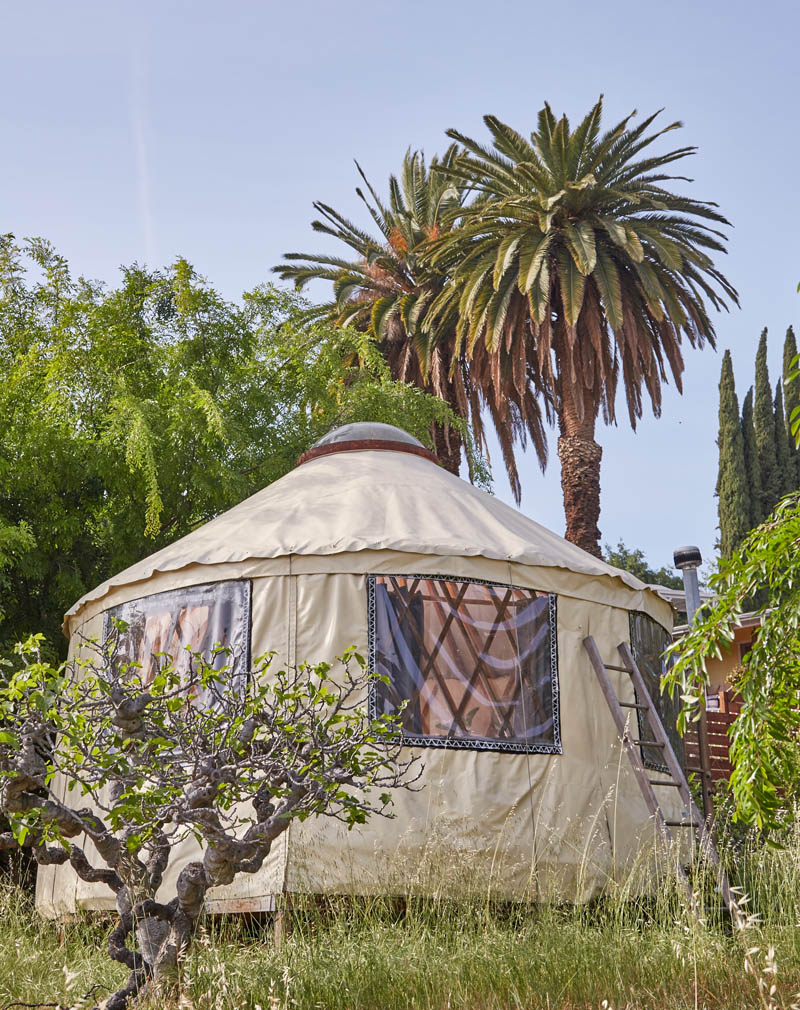 This urban yurt proves the circular structures aren't just for outdoor explorers. Smack dab in cosmopolitan Los Angeles, this yurt sits under a canopy of orange, lemon and avocado trees, just a few miles from the famous Hollywood sign. The space boasts hardwood floors, modern amenities and a fire pit (for the few weeks each year that LA braves chilly weather). This home is currently available as a
short-term rental
.
Saratoga, WY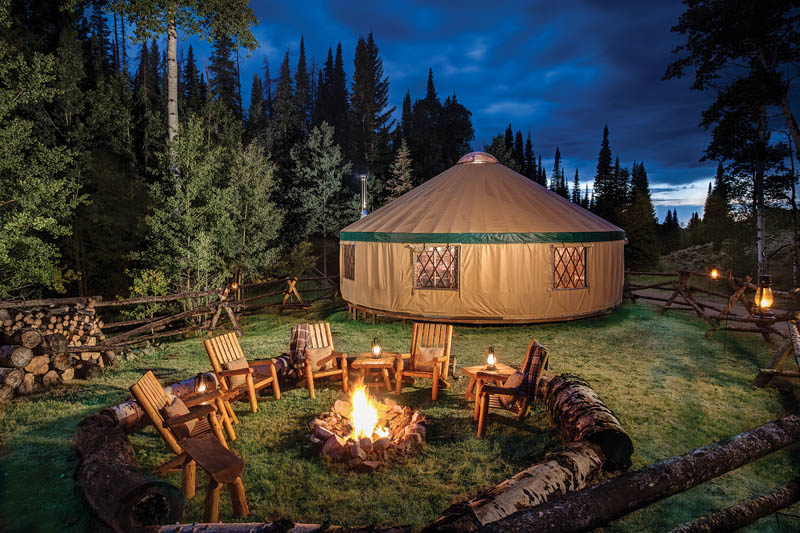 About two hours outside of Cheyenne, WY, sits this 700-square-foot mountain yurt. An overnight stay in this luxury space comes with custom gourmet meals, along with an expert guide to lead you to your digs via horseback. There are luxe glamping amenities on the inside (leather couches and a giant bed) and all that rural Wyoming has to offer on the outside (trout fishing, wildlife viewing and even yoga au naturel). This home is currently available as a
short-term rental
.
Redlands, CA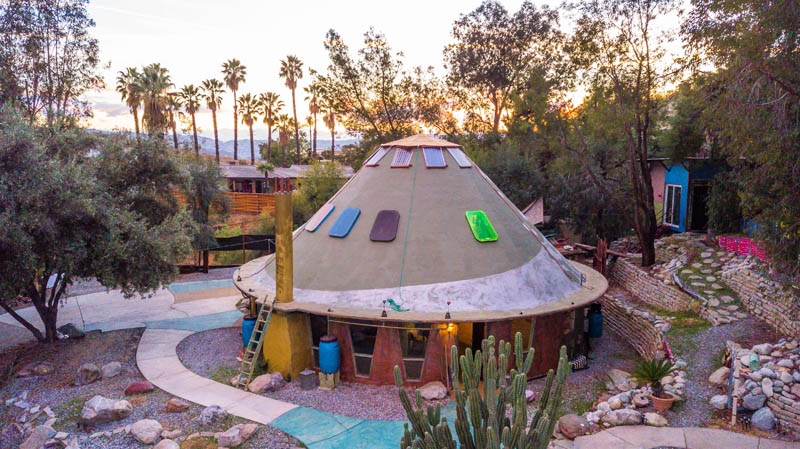 The vivid colors of this California home match the hues of the sunsets you'll see from it. The main house is a yurt-style circular home with three levels, including one with a fireplace and a conversation pit. There's a dining space with warm, red-paneled walls and plenty of skylights to let that west coast sun shine in. This home is currently
for sale
for $469,000.
Cayucos, CA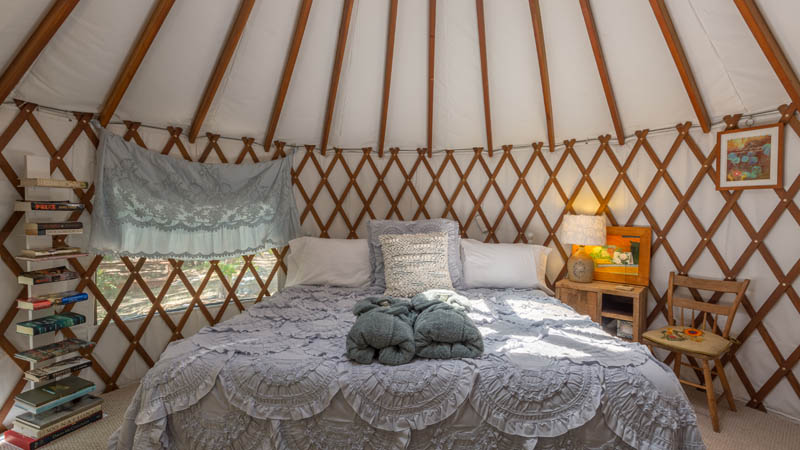 Coastal California looks even better from a rustic yurt set on 160 sprawling acres. This particular space has four yurts, each with a bohemian vibe and a cozy fireplace. There are hiking trails and yoga opportunities on your doorstep, and wine country is just a short drive away. These homes are available as
short-term rentals
.
Westmore, VT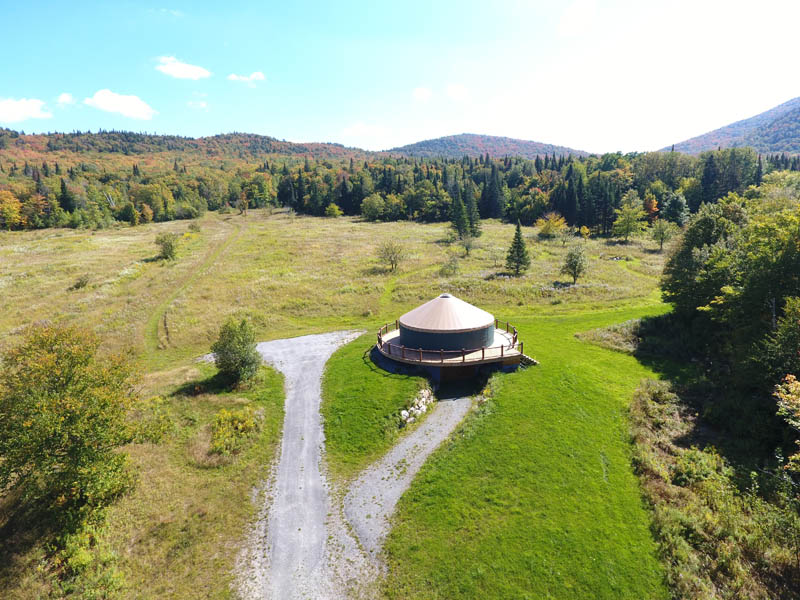 Explore all 157 acres that come with this 30-foot yurt in northern Vermont. This home features a large skylight and a wraparound deck with views of the surrounding hillsides. Bonus: A nearby meadow contains apple trees - perfect for when the maple syrup runs out, and you're looking for something else to satisfy your sweet tooth. This home is
pending sale
, listed at $249,900.
Top featured image by Sean Mathis.
Related:
The post
10 Yurts That Will Have You Dreaming of Your Next Adventure
appeared first on
Zillow Porchlight
.